Children removed from their homes for abuse or neglect in Hancock County, Indiana
children currently being served in Hancock County, Indiana
children currently in need of a CASA in Hancock County, Indiana
Hancock County CASA Volunteers as of today

Join us at Daniel's Vineyard on September 16th from 4-8pm for trivia night!
It's Back to School Time
The U.S. Department of Education anticipates that many schools across the country will return to in person learning at the start of the new school year. For many children, this will be the first time entering a school building or a child care facility in 18 months due to the COVID-19 pandemic.
The vital role schools play as a supplement to the social safety net for the children most in need, is starkly evident with their closure, according to the Northwestern University Institute for Policy Research.
Children and youth who have experienced abuse or neglect, may be re-entering schools after a significant period of remote learning, or entering a new school this year with higher levels of stress and uncertainty. But this is also a time for these children and youth to be excited about reconnecting with stability, as they look forward to seeing their friends, teachers and staff, and return to their extra-curricular activities.
As students return to school, the work of a Court Appointed Special Advocate (CASA) or Guardian ad Litem (GAL) volunteer continues to be essential now more than ever.
How Volunteers Help
On any given day, there are nearly 162 children and youth in foster care in Hancock County.  Children who have experienced abuse or neglect are involved with multiple systems—the court system, the child welfare system, the health care system, and the school system.  Our volunteers can help connect the dots between these systems to ensure that information is shared, when appropriate, to get the best possible outcomes for children and youth.
Appointed by the judge, CASA/GAL volunteers advocate for stability with respect to a child's living situation and school placement, with the child's best interest in mind. CASA/GAL volunteers interact and build relationships with everyone in the child's environment who has a hand in their education—parents and foster parents, teachers, school counselors, social workers, attorneys, therapists and others.
During the pandemic, Hancock County CASA and our volunteers identified gaps in distance learning technology (e.g.  laptops, chrome books, iPads and/or internet access) for children and families.  As the new school year starts, volunteers will continue to advocate for children to ensure they have access to the educational resources needed.
Hancock County CASA volunteers check in with the child and family and encourage them to share their feelings and anticipation about the new school year.  Hancock County CASA can also assist with connecting families to resources such as school supplies, backpacks, and other essential items. CASA/GAL volunteers also provide resources for school enrollment, transportation and before and after school care.
Hancock County CASA volunteers can work with the school social worker or child protective service staff member to advocate for comprehensive wraparound services for the child, including primary health, mental health and dental care, pandemic food assistance, mentoring, and post-secondary education awareness.
If a child is receiving tiered response to intervention, special education or 504-related services, our volunteers can attend school meetings and recommend strategies that support the child's success in school such as tutoring, therapies, assistive technology, and other accommodations.  They can also advocate for placement stability, knowing that frequent school transfers can cause a child to fall behind.
Outcomes
A child with a CASA/GAL volunteer is more likely to have better outcomes: children performed better academically and behaviorally in school as measured by whether or not they passed all of their courses, whether or not they were expelled, and their conduct performance.
Children and youth assigned a CASA/GAL volunteer reported significantly higher levels of hope.  A child's hope has been linked to numerous positive outcomes such as academic success, overall wellbeing, increases in self-control, positive social relationships and optimism.
For children in the system, pursuing childhood activities can be a challenge because of frequent moves, resource challenges or shame.  Our volunteers make sure the court knows when a child has special interests and help remove barriers so the child can participate in extracurricular activities.
If you would like to support the children, youth and families we serve as they navigate the new school year, learn how you can become a CASA/GAL volunteer by visiting our Volunteer page.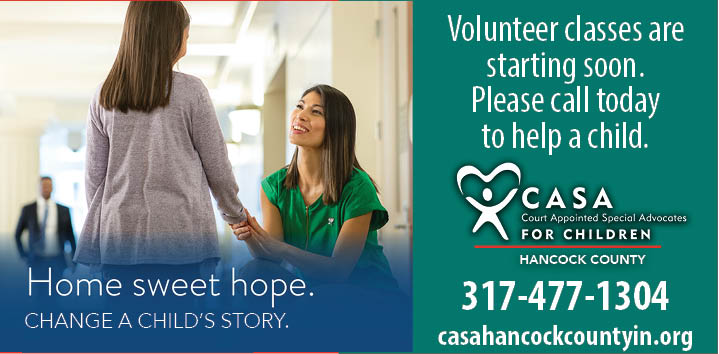 We are the Hancock County, Indiana branch of CASA, or Court Appointed Special Advocates. We support and promote court-appointed volunteer advocacy so every child who has experienced abuse or neglect can be safe, have a permanent home, and the opportunity to thrive.
Who needs CASA? Children who have been removed from their homes because of abuse or neglect needs a CASA. Through no fault of their own, many children get caught up in the legal system. This is where CASA steps in.
A CASA volunteer speaks up for these children in court and works for the best interests of abused and neglected children by looking over a child's case and making recommendations to the Judge. CASA volunteers also help children move into safe, permanent homes.
Your generous support will help us to recruit and train more volunteers to meet the growing demand of our services in Hancock County, Indiana.
Hancock County Indiana CASA
Marciann McClarnon Miller
mmiller@hancockcoingov.org
Located At
98 E North Street, Greenfield, Indiana